Direction and Local Transportation
PHOTONICS Prague Conference Hotel
Hotel Olympik - Artemis Conference Centre
(located next to the Olympik Hotel across a parking lot)
GPS coordinates 50º05'56" N 14º28'14" E
U Sluncove 14, Praha 8
Metro stop Line B - Invalidovna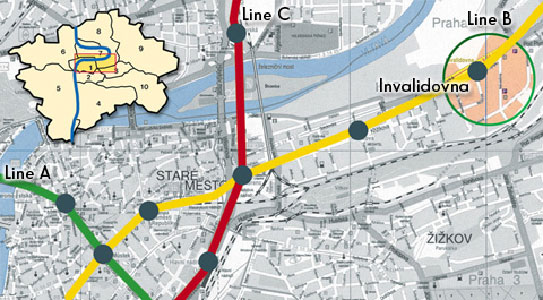 How to reach Olympik Hotel
Microbus CEDAZ
: to reach the
Olympik Hotel
directly from the airport we recommend to take door-to-door service for 1-4 persons for a fixed price of 480 CZK one way. The CEDAZ stand is located in front of the Airport arrival exit (outside) to the right of the taxi stand.
By public transportation
: Take bus No 119 and get off at its last stop (metro DEJVICKA). Then change to Metro (subway). You will go 4 stops and get off at stop Mustek. There you will change to Line B and go 4 stops to Invalidovna, where you get off. The PHOTONICS Prague Conference Olympik Hotel is within walking distance (3 minutes).
By taxi
: a taxi from the airport to the Olympik Hotel costs around 660 CZK.
For individual assistance or in a case of emergency do not hesitate and contact the organizers - Action M Agency -
Milena Zeithamlova on number +420 602 762 267
.
Transportation in Prague
Excellent public transportation in Prague is provided by metro (subway), trams, and buses from 5 a.m. till midnight, and by night trams (non-stop). Tickets can be bought in yellow sales machines (in each metro station) or at newsstands for 26 CZK (valid transfer 1-hour ticket). A one-day card can be purchased for 100 CZK and three-days card for 330 CZK a five-days card for 500 CZK.
You can learn more at
http://www.dp-praha.cz/en
. For more detailed information look at:
www.mapy.atlas.cz
,
www.prague.cz
.